Materials
We firmly believe that the quality of materials used not only enhances the radiance of each piece but also contributes to its longevity, allowing it to withstand the test of time.
We hold ourselves to the highest ethical standards. For us, there is no compromise when it comes to selecting materials that have minimal impact on our precious planet and the communities we serve. That's why Our mission for 2023 -2024 is to move to 100% recycled sterling silver from certified recycled sources.
Furthermore, we are passionate advocates for responsible sourcing practices. We go above and beyond to ensure that every stone we use is conflict-free, safeguarding the integrity and ethicality of our jewellery.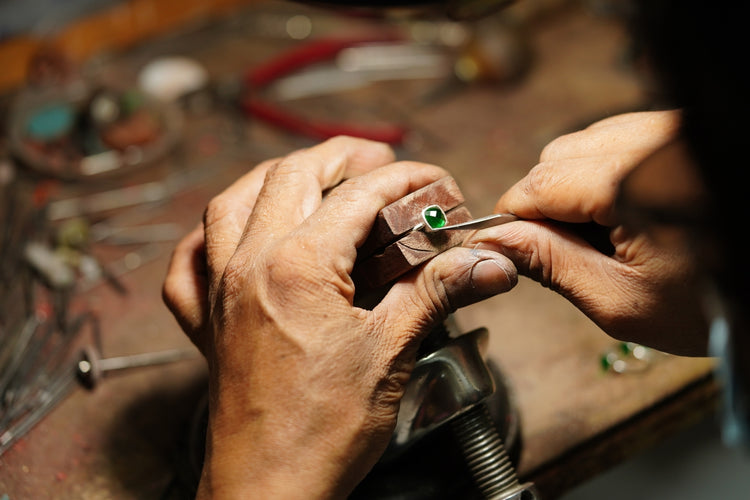 18k Gold Vermeil 
Gold vermeil (pronounced ver-may) consists of thick layers of gold on-top of sterling silver. We use 18 karat gold that is a minimum of 2.5 microns thick to create a finish five times thicker than average gold plating, and far more durable. (Really to stand the test of time) 
Our Gold Vermeil is hypoallergenic, so people with metal allergies can wear it safely. All of our 18k gold vermeil pieces are stamped with "925". 
Sterling Silver

925 Sterling Silver is an alloy made of 92.5% pure silver and 7.5% copper. (That's why you see the 925 mark on these designs). We plate our sterling silver jewellery in rhodium.
Rhodium Plating
A member of the platinum family (so you know it's special), rhodium is a rare, lustrous, and valuable metal that's naturally silver-white. It's also corrosion-resistant, so we use it to plate select sterling silver and white gold surfaces for extra shine and durability.  
Gem stones
At our core, we firmly believe in the importance of responsibly sourced gemstones. We understand that ensuring the ethical origin of these precious stones requires a collaborative effort and an open dialogue with our trusted suppliers.
In our pursuit of transparency, we actively engage with our workshops to carefully select suppliers who can provide verifiable evidence of traceable supply chains. Through a comprehensive range of documentation, including images captured cutting facilities, disclosure certificates, and valid mining licenses, we seek to establish a clear and accountable pathway for our gemstones.
By forging these strong partnerships and demanding transparency, we aim to provide our valued customers with the assurance and peace of mind that come with knowing the origin of the gemstones in our jewellery. We are committed to upholding the highest standards of ethical sourcing and look forward to fostering a deeper connection with our suppliers and customers alike.
Together, we can continue to promote responsible practices within the industry and ensure that every gemstone chosen for our creations has a positive impact, both on the communities involved in its production and on the environment.
Freshwater Pearls

We use cultured pearls that we carefully select for our pieces. Each is unique in shape, size, character and lustre.